The Johnson Family – Wes (Kindergarten) and Lee (Second Grade)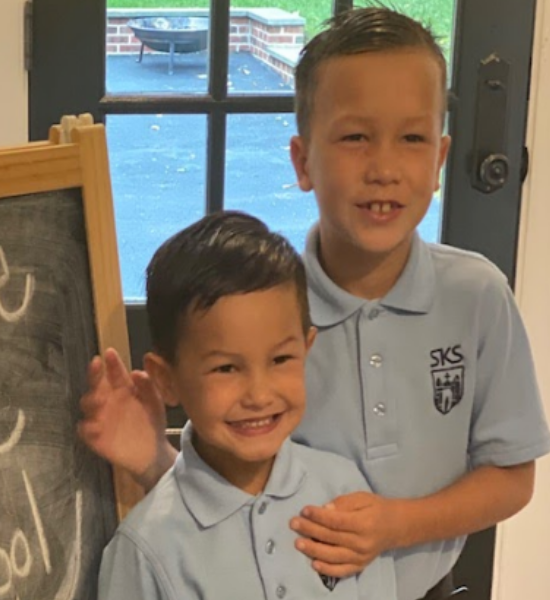 Why did you decide on SKS?
Why not shake things up in the middle of a pandemic? My husband, Kit, is an alumni of SKS, so it has always been in the back of our minds as a school that would likely be a good fit for our kids.
How was the transition for your second grader to a new elementary school?
The transition has been great. Our son has been so warmly welcomed by the kids in his class, and his teacher is fantastic! She's been extremely helpful and attentive at getting him settled and comfortable.
What have you liked the most so far?
This is the most welcoming, friendly community. The number of emails, phone calls and texts we received at the start of the year (and still now) to simply say hello, answer questions, make connections was amazing. The communication to and between staff, teachers and families is incredible, timely, consistent and positive. It feels like we're part of a great team!
Has anything exceeded your expectations?
How easy it is to get the boys to wear the uniforms. Ha!
-Michelle Johnson
The Botzler Family – Jack (Kindergarten)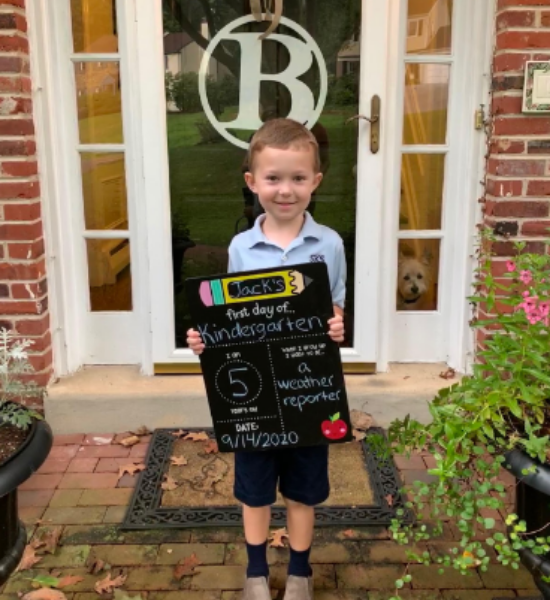 Why did you decide on SKS?
It's hard to believe it was only a year ago (in completely different times!) when we were touring SKS and deciding if it would be a good fit for Jack and our family. The strong, welcoming community attracted us to SKS. The school's focus on not only academics, but also on developing the whole person is very important to us. These areas have proven to be even more important during these current times, and we are so grateful every day for the SKS community!
How was the transition for your kindergartener?
Starting kindergarten at a new school during a pandemic, we were unsure of what to expect. It had been about six months since Jack had been in school! SKS did a terrific job of welcoming all of the children back to a school environment and making both the kids (and parents!) feel safe and comfortable. The strong focus on how to be a good friend fosters such a warm environment and helped make the transition so smooth. Jack is constantly saying, "My teachers are SO nice!" We are so grateful for his teachers, the staff, and for all of the new friendships he is forming that helped make the transition so smooth!
What have you liked the most so far?
Jack would say, "my teachers, my friends, and the soft pretzels." We have been so happy for Jack to have the opportunity to attend school in person and are amazed at how much he has learned in such a short amount of time. The teachers and staff are constantly going above and beyond to help the students learn and give them a slice of normalcy during these current times.
Has anything exceeded your expectations?
SKS's health and safety plan and commitment to keeping the kids in school has far exceeded my expectations. When we started in September, I wasn't sure what to expect, but I have been constantly amazed at their ability to adapt to changing conditions. Also, their ability to adapt traditional events such as Halloween to make things still fun for the kids despite the circumstances has been great. Thank you SKS for helping to keep our kids safe and in school!
– Laura Botzler
The McLaughlin Family – Charlie (Kindergarten)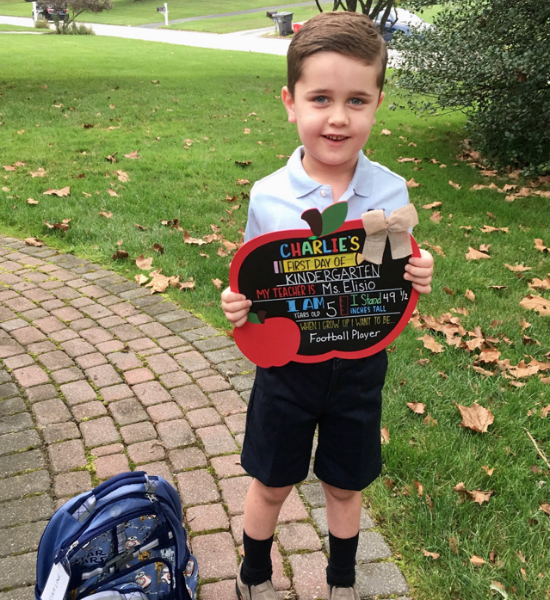 Why did you decide on SKS?
We knew SKS was the right choice for our family when we toured the school last fall.   There are many great schools in the area, but it was the strong, close-knit and faith-filled community of SKS, the warm and welcoming faculty and staff, and the happy and smiling students that really stood out to us to us that day.  It is also important for us that our child's school environment is centered around the same Catholic faith and values that we were taught growing up and that we teach in our home, so that is what set SKS apart from the other great local schools for us.
How was the transition for your kindergartener?
I went right to our kindergartener for his feedback on this one!  He said that he loves his new school, and especially likes having his own desk, art and recess.  He said that it's so much fun!  He did admit to being a little nervous to start a new school but hopped in the car at pickup on the first day, said "It was AMAZING!" and hasn't looked back since!
What have you liked the most so far?
The people!  The SKS community has been so warm and welcoming!  Our teachers and new family mentor especially have really helped us navigate the transition to a new school and we are very appreciative of their guidance and support.
Has anything exceeded your expectations?
Going into this year, we expected to feel disconnected from school events, celebrations and day-to-day happenings due to the COVID restrictions and guidelines in place.  SKS has done a great job of sharing these events virtually with us, from the back-to-school welcome video and classroom tour, to the virtual back-to-school night, school masses, Wildcat videos, Halloween parade, etc.  It has been great sharing in the fun…even if only virtually for now!
– Karen McLaughlin