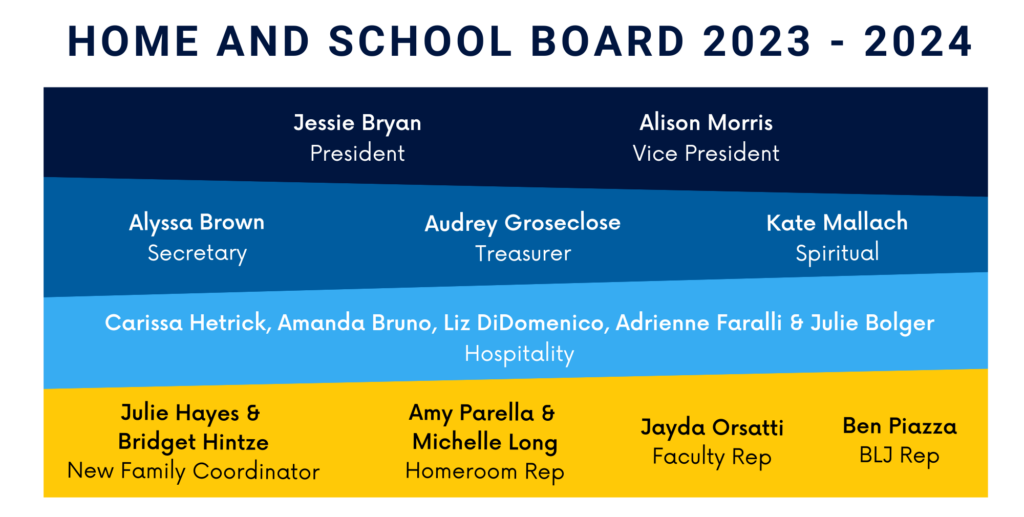 WELCOME
On behalf of the Home and School, we would like to welcome everyone to another fabulous school year! The role of the Home and School is to support and foster the strong sense of community here at SKS. We look forward to engaging with SKS families at the various events planned during the school year. Our events agenda includes staples that have traditionally been a hit with SKS families, as well as a couple of new events that we are incredibly excited about introducing this year. Stay tuned for more information! We encourage people who might be interested in volunteering to reach out to anyone on the board and throw your hat in the ring. One thing is certain, this community – from the parish, the school, to our families, SKS is filled with such wonderful people, and we look forward to helping to make everyone's experience as fulfilling as possible.
We will keep you informed about Home and School events via our Home and School emails. Feel free to contact us at
homeandschool@sksschool.org.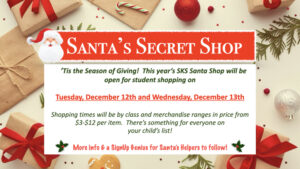 Secret Santa
Tis the Season of Giving! This year's SKS Santa Shop will be open for student shopping on Tuesday, December 12th and Wednesday, December 13th.
Shopping times will be by class and merchandise ranges in price from $3-$12 per item. There's something for everyone on your child's list!
SKS Santa Shop needs MANY parent volunteers!   Please review the Santa Shop SignUp Genius (see teacher names for when specific classes will be shopping) and sign up based on your availability.  And remember, you do not have to sign up just for when your child(ren) are shopping 😉   Thank you in advance for your time!   As a reminder: **ALL volunteers at Santa Shop must have their clearances completed and on file with the Rectory.  CLICK HERE for the list.  If you have any questions about clearances or want to check the status of your clearances, please contact Kim O'Neill at koneill@sksparish.org.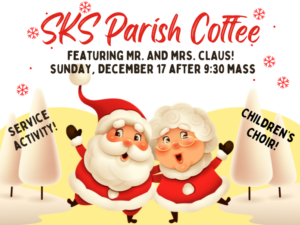 SKS Parish Coffee
Mr. and Mrs. Claus will greet families and parishioners at our Christmas Parish Coffee on December 17th after the 9:30 am mass. Stop by for goodies and fun with your friends!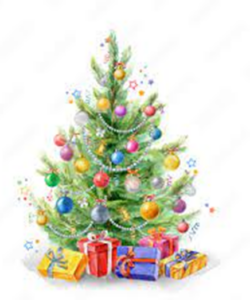 SKS Faculty and Staff Christmas Collection
The Christmas season is upon us, and our teachers and staff are working hard to make this year another success for every family.  We all have the wonderful SKS faculty and staff on our gift list.  Here's an easy way to show them just how much they mean to your family and give them a gift they'd really like:
Contribute to the Annual Christmas Collection!
Last year, almost 100% of our school families contributed, which provided each teacher and staff member with a generous monetary gift for Christmas.  In the past, families have given an average donation of $50 per student.  Some families give less, and some give more.
Each teacher and staff member will receive their gift with a card acknowledging every contributing family by name.  There is no reference to how much any family specifically contributed to the Christmas Collection.
Please contribute online by Monday, December 18th by clicking this link.  If you have any questions, please reach out to audrey.groseclose@gmail.com.
Thank you and Merry Christmas!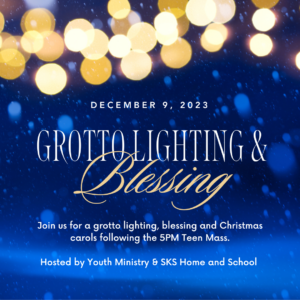 Grotto Lighting and Blessing
December 9 after the 5PM Teen Mass
Be part of a joyful SKS Christmas tradition. Following the Teen Mass (featuring the teen choir and lectors), parishioners will process by candlelight across the street for carols, a special blessing and lighting of the grotto to remind that Christ is the light of the world.
Hosted by Youth Ministry and Home and School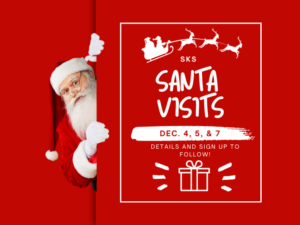 Santa will once again be stopping by SKS homes on  December 4th, 5th and 7th starting at 5 pm. Visits include an outdoor greeting and photo-op with Santa, a chocolate Advent calendar and a limited-edition SKS Christmas ornament!
This year we are asking you to choose the date of your visit. Santa's route will be scheduled and confirmed after all registrations are received.
SPACE IS LIMITED – CLICK HERE TO REGISTER NOW!  through Thursday November 30th. $30 per family suggested donation.
Questions? Contact Chrissy Anderson 267-515-3353 or Christina Muntz 484-410-5104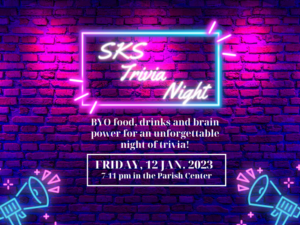 Trivia Night January 12th
Bring your own food, drinks and brain power for an unforgettable night of trivia! Details to follow
from Home and School.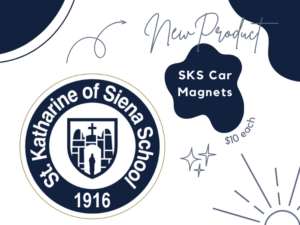 SKS Car Magnets Now On Sale!
Home and School has updated our SKS Car Magnets – just $10 each! You can place your order here, the image on the order form is our new style.
The magnet will be sent home in an envelope with your oldest child. Thanks for your support!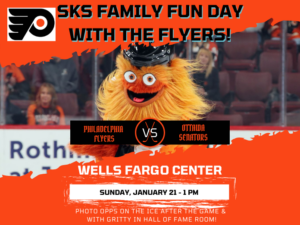 SKS Day at the Flyers
January 21, 2024
Plan a day out with the family and support the team at our SKS Day at the Flyers! Click here for event and ticket information.