A Board of Limited Jurisdiction (BLJ) is a mission-driven, participatory policy-making body empowered by the Archdiocese of Philadelphia and parish to make binding decisions in specified areas of responsibility in accordance with the Elementary School BLJ Operating Principles and in keeping with the rules, regulations, and vision of the Archdiocese and canon law.  Led by an Executive Committee, the BLJ functions in collaboration with the pastor and principal and is trained and supported by the Office of Catholic Education.
Through the work of their committees, the BLJ manages the following areas:  Finance, Enrollment, Development, Facilities, and Board Membership.  There are currently seventeen members on these five committees: three current parents, twelve alumni parents, plus principal Bud Tosti and pastor Msgr. Brouwers.  These boards have been put in place by the Archdiocese to help the pastors and principals run the schools.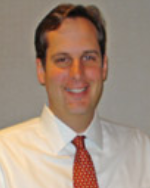 Phil Hintze is our inaugural Chairman of the Board.  He has been tasked by Bud Tosti and Monsignor Brouwers to lead the seventeen board members as they set up the foundation for the Board at St. Katharine of Siena School.  In his role, Phil helps formulate the strategy of the Board and School as we strive to remain the preeminent parochial school in the Archdiocese of Philadelphia.  Phil has been providing investment advice to hedge fund managers for the last 22 years since graduating from business school at Duke.  He has served as a Managing Director with Stifel for the past twelve years.  Previously, he ran New York sales for RBC Capital markets and oversaw national sales for SunTrust Robinson Humphrey.  Phil and his wife, Bridget, joined the parish eight years ago when they relocated from New York City.  All four of their children are enrolled at SKS: Jude (5th grade), John and William (3rd grade), and Mimi (Kindergarten).  Phil and Bridget are both strong proponents of Catholic education as they both attended Catholic schools from kindergarten through college.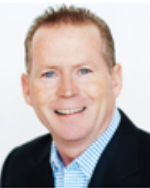 Kevin Connor joined the Board in 2020 as Vice Chairman. Kevin brings close to 40 years of experience as a senior executive in the financial services industry to the Board and is currently Co-President of Financial Distributors Group LLC. Kevin and his six siblings all attending SKS. Kevin is an alum from the class of 1974. He has served on the parish Finance Committee and the Pastoral Council. Kevin and his wife, Gail, have two children who both attended SKS: Madison is a 2015 graduate of Loyola University and Jackson is a 2018 graduate of the University of Pennsylvania. Kevin currently serves on the boards of Archbishop John Carroll High school, the Fighting Back Scholarship Program and Trueletics, a financial technology firm.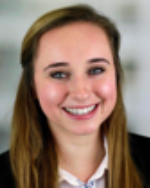 Elizabeth Armstrong joined the Board in 2019 as the Secretary. She graduated from SKS in 2008, followed by her younger brother in 2011. Elizabeth continued her Catholic education, attending Archbishop John Carroll High School and SKS masses every weekend, until going to Penn State for college. She has thoroughly enjoyed her time with the Board, especially reconnecting with alumni of years past. Elizabeth strongly believes that the valuable lessons on morality and kindness taught at SKS are unmatched and looks forward to continuing her work with the Board. Elizabeth is currently a Senior IT Auditor at Ernst and Young.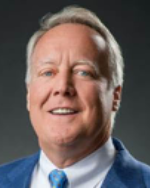 Bruer Kershner joined the Board in 2019 and functions as the BLJ Development Co-Chair. Bruer is CEO of Kershner Office Furniture. Featured in Smart 100, a publication of SmartCEO Magazine, Bruer is recognized for his leadership, strategic vision, and character. With his vast client relations and market knowledge, Bruer has successfully grown Kershner Office Furniture to be a top dealer in the region. Bruer and his wife, Meg, reside in Wayne, PA. Their three children, all SKS graduates, Bruer Jr. (30), Kelsey (28), and Britton (25) live in different cities across the United States, including Philadelphia, Los Angeles and Atlanta.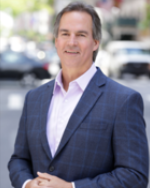 Doug Guyer joined the Board in 2020 and functions as the Co-Head of Development.. Doug is the CEO of Brandshare, a company he co-founded and serves as CEO. He brings decades of marketing and management experience to the position, as his company has many Fortune 500 companies as clients.  Doug and his eight siblings all graduated from SKS and Archbishop Carroll. Doug went on to attend Boston College on a football scholarship, where he played from 1979-'83, getting drafted by the USFL, before signing with the New England Patriots.
He and his wife, Toop, have 2 sons, Rainer and Doug, who also graduated from SKS and Archbishop Carroll. Rainer recently graduated from James Madison University and Rex is a rising senior at Utah State. Doug helped coach the SKS football team for 9 years and the high school CYO SKS basketball teams for 5 years.
Rebecca Roe joined the Board in 2020 to take on the newly formed role of Alumni Relations Coordinator.  SKS has such a strong community and it is vital we stay connected to our graduates and their parents. Rebecca's goal is to build out our database of all SKS alums and their parents.  Rebecca will help organize alumni class chairs and facilitate the gathering of contact information in order to stay connected with all of our alumni and their families.  Rebecca and her husband, Alex, have been members of the parish for almost 14 years and have three children. Charlotte (SKS, '20) just began Agnes Irwin this fall, Graham attends Episcopal Academy and Oliver is at Saint Aloysius Academy.  She served on the SKS Home and School Association for several years in various roles and, like many of our Board of LJ members, she served as Home and School President two years ago.  Rebecca currently works part time for Medscape as a Senior Business Analyst.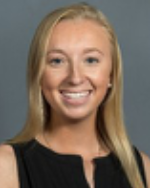 Shannon Maguire is a 2010 alum of St. Katharine of Siena, serving on the Board as Co-Chair of the Enrollment & Marketing Committee. Shannon's goal since joining the board has been to increase enrollment and maximize retention through marketing efforts that highlight the uniquely special SKS community. She and her three younger siblings attended St. Katharine's from K-8, and her mother, Colleen, works as the Coordinator of Parish Life and Ministries. Shannon continued her Catholic education first at Villa Maria Academy and then at Saint Joseph's University, where she graduated with a Business degree in Marketing in 2018. Shannon currently works in Radnor, PA as a Digital Marketing Specialist for Essent Guaranty.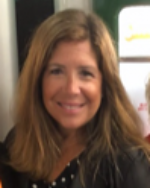 Sara Leyden is a charter member of the Board and serves as Co-Chairman of the Enrollment and Marketing Committee.  Sara brings years of public relations and marketing expertise to her role as well as a variety of experience working with local non-profit organizations serving area teens.  Sara has three SKS alums who graduated from local Catholic high schools and then went on to the University of Notre Dame.  While a parent at SKS, Sara served three terms on the Home and School Board, was a reading circle volunteer and happily served Chick-fil-A every Tuesday for years.  Relatively new to the area when her daughter, Katie, began kindergarten, Sara and her husband Jay, found the SKS community friendly and inviting.  In addition to providing the Leyden children with a great Catholic foundation and education, SKS also provided the entire family with lifelong friendships.  Sara is passionate about ensuring that SKS maintain its reputation as a strong, faith filled community that provides exceptional academics.  The Leydens have been active SKS parishioners for more than 20 years.  Sara has served on the Parish Council, is an Extraordinary Minister of Holy Communion and a lector.
Margaret Mary Anderson is an original member of the Board and serves on the Enrollment and Marketing Committee. She is the mother of Laura, Kerry, and Christine, all of whom are SKS graduates. Laura ('05) graduated from James Madison University and then obtained her Master's degree from Seton Hall University. She is a speech and language pathologist. Kerry ('10) graduated from Penn State University and is currently a student at the Philadelphia College of Osteopathic Medicine in the Physician Assistant program. Christine ('13) will graduate from Penn State in May and continue at Villanova in their accelerated nursing program. During Margaret Mary's 14 years as an SKS parent, she was usually found in the cafeteria/recess yard for lunch duty, Parish Center with a Brownie or Girl Scout troop, or helping in the office with the "Tuesday Envelope." Margaret Mary is a medical editor/proofreader for the National Board of Medical Examiners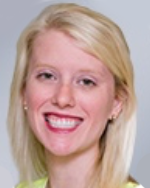 Clare Spence, a 2007 St. Katharine of Siena alum, is an original member of the Board of Limited Jurisdiction and is currently serving as The Membership Chair. After attending St. Katharine of Siena for k-8th grade, Clare graduated from the Academy of Notre Dame and the University of Dayton. After graduating from Dayton, she spent a year serving as an Augustinian Volunteer, working as a substitute teacher in Andover, MA. Clare is currently an Underwriter at United States Liability Insurance Group (USLI).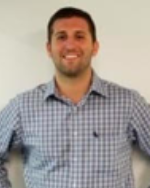 Joe Barba is an entrepreneur who has created several innovative businesses in the Staffing and Sports & Entertainment industries. Joe was a 2019 Forbes 30 Under 30 Finalist and Runner up for Philly's Best Tech Startup in 2018. Joe is an alumnus of Penn State, Malvern Prep and SKS.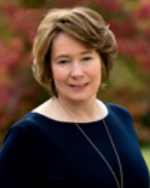 Catherine Lowry joined the Board in 2019. .Soon after, she took on the role of the Facilities Committee Chair.  With years of experience as a full time realtor for Berkshire Hathaway Fox and Roach, she brings the knowledge of how system and facilities work and need to be maintained. Her Committee is composed of parishioners and school family members who all work in the various fields of facilities management, including a HVAC company, a builder, and several business owners.  The Facilities Committee works hand in hand with the Parish Facilities Manager to oversee the school building and systems.  Catherine and her husband, Tim, have been members of the parish for over 27 years. Their six children all attended SKS, graduating in 2008, 2009, 2012, 2013, 2015, and 2016. Currently, her 3 youngest are in college at Xavier University, Fairfield University and Louisville University.  Her oldest three have graduated college and are successful working, living in Chicago, Philadelphia and Wayne.  Spending many hours volunteering, she served on the School Board, leading fundraisers, lunch duty, coached the field hockey program and, most recently last year, serving in a leadership role for the SKS Annual Fund Event.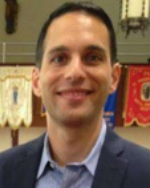 Paul Jamoos joined the SKS Board when it formed in 2019 and serves on the Finance Committee. Paul and his wife, Melissa, currently have three kids attending St. Katharine's and reside in Malvern. Paul is the Director of Global Commercial Accounts at Veeva where he manages strategic partnerships with enterprise pharmaceutical customers.  He has been with the company for ten and brings deep business experience to the SKS board.
Maria Recchilungo is an original member of the Board of Limited Jurisdiction and took on the role as Co-Chair of the Finance Committee in 2018. Maria works closely with the pastor and principal to review the school's budget to determine an appropriate school subsidy. She also evaluates and computes yearly tuition rates, monitors quarterly revenue and expense statements, and reviews all capital expenditure recommendations to ensure that proper procedures and guidelines for capital projects and improvements are being followed. Maria is a C.P.A. and worked as an auditor for Arthur Andersen & Co. for four years. She then began a 10-year tenure as Controller for a national real estate development firm before transitioning to a full-time mom and business assistant for her husband's company. Maria and her husband, Claudio, have been members of the parish for 25 years. Their five children are all SKS alumni. Claudio Jr., SKS '10, is a graduate of Saint Joseph's University and works as an independent financial appraiser. Sophia, SKS '12, is also a graduate of SJU and is employed by Giant Heirloom as a team leader in their retail division. Twins, Lorenzo and Julianna, SKS '15, are both sophomores at Penn State and Gabriella, SKS '18, is a junior at the Academy of Notre Dame. For the 19 years her children attended SKS, Maria volunteered as a homeroom mom, lunch aide, reading circle/library assistant as well as chairing various fundraising events throughout her children's attendance at SKS. She genuinely loved every second of the time she spent volunteering and created an abundance of cherished memories along with a wealth of lifelong friendships.