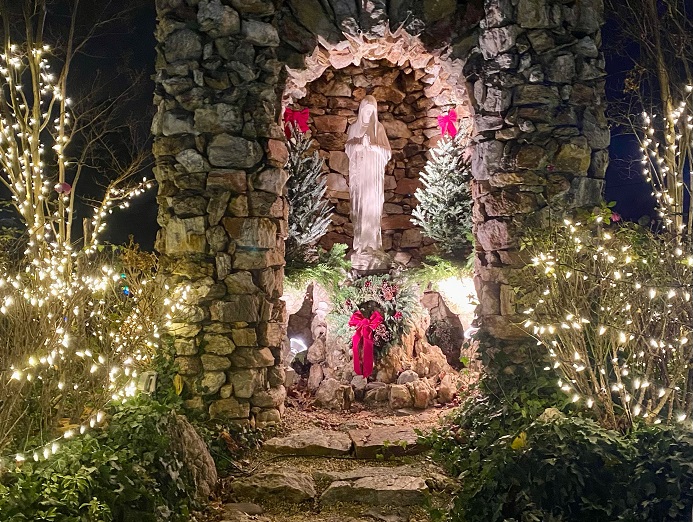 All is Bright at SKS
Christmastime was certainly special this year at SKS. We celebrated the Christmas season with many events, old and new! The seasonal highlights included: tree lighting in the grotto, visits from Santa, the Secret Santa Shop, the grades k-4 Christmas concert, and the grades 5-8 Christmas Tableau.
SKS Grotto Lighting
The first annual SKS grotto lighting kicked off the Christmas season on December 1. The evening began with Christmas carols sung by the SKS choir. After a festive countdown, the grotto was illuminated with beautiful lights. The evening culminated in a visit from Santa on a Radnor fire department firetruck. Kids were welcome to bring their letters and wish lists for Santa. All enjoyed delicious treats and hot chocolate. It was a truly special event and all members of the SKS community enjoyed coming together in this festive, outdoor event.
Visits from Santa
For the second year, Home and School came up with a creative way for all members of our school community to visit with Santa in a safe and socially distant way. Families were given the opportunity to request a visit from Santa and then Santa and one of his elves made visits to multiple families over the course of three nights. Children were amazed and excited when they opened their doors to see Santa and his elf standing there with a bag of treats for them and wishing them a Merry Christmas.
Christmas Concerts Featuring Grades K-4th
On Thursday December 9, kindergarten through fourth grade performed the annual Christmas concert in the church. There were two performances that morning to allow for parents and grandparents of all performers to attend. As the concert was performed virtually in the prior year, it was great to gather together again and listen to our younger grades perform! The show ended with all of the grades performing "Blitzen's Boogie" which brought smiles to everyone who attended.
Christmas Tableau Featuring Grades 5-8th
Our fifth through eighth graders performed the long-honored tradition of the Christmas Tableau on Wednesday, December 15. The story of the Nativity was beautifully told by the students and offered all a night of reflection of the true meaning of Christmas during the Advent season.
Secret Santa Shop
After a Covid-related break last year, the Secret Santa shop was able to visit SKS again this year. All of the grades were given the opportunity to visit the shop sponsored by Home and School and do some Christmas shopping for family and friends. The shop was a great opportunity for students to practice their budgeting skills and to embrace the true spirit of giving at Christmas.
A very special thank you to members of Home and School for organizing the grotto lighting, Santa home visits and Secret Santa Shop. All of these events embodied the true SKS spirit and spread cheer to our families.
(Click the thumbnails to view larger)
Catholic Schools Week: Exemplifying Faith, Excellence, and Service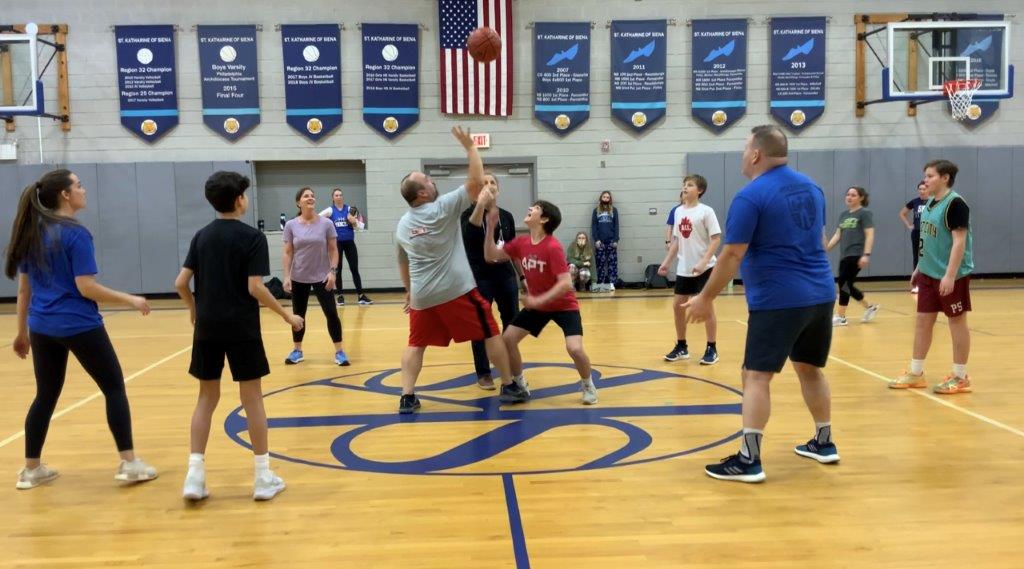 National Catholic Schools Week is the annual celebration of Catholic education in the United States. The theme for this year's Catholic Schools Week was "Catholic Schools: Faith. Excellence. Service." SKS faculty and students participated in a week-long celebration that included a variety of special events, dress down days, and service projects.
The week kicked off with a buddy retreat on Monday that focused on the virtue of hope. Students dressed down in yellow, the color of hope, and were paired with their grade level buddies for the retreat.
On Tuesday, students donned their craziest looks from head to toe for crazy 8's and crazy hair day. Spelling bee competitions were held for students in kindergarten through fourth grade, while students in fifth through eighth grade competed in a trivia competition.
Students were invited to dress like their hero on Wednesday. They honored their heroes with a variety of creative and thoughtful costumes. Among the costumes were athletes, superheroes, scientists, doctors, nurses, parents, and teachers. The SKS faculty also got in on the fun by dressing as their esteemed principal, Mr. Tosti! Students across all grade levels also participated in fun and engaging STEM challenges that day.
The celebration continued with Spirit Day on Thursday. Students dressed down in blue and white to show their school spirit and enjoyed some fun and games in the gym, including a dance party and "Minute to Win It" games for each class.
The week ended with pajama day and the virtual talent show on Friday, which featured a variety of performances showcasing the many talents of our school community. Students also enjoyed soft pretzels provided by the Home and School Board and an early dismissal.
The highly anticipated teachers versus students basketball game also took place on Friday. This annual tradition is an intense competition between the eighth grade students and teachers, who give it their all on the court to take home the title. This year, the students ended the teachers' winning streak with a tie score of 30-30.
Throughout the week, students also participated in a variety of school-wide service projects. Students donated canned goods for the annual "Souper Bowl" food drive. Students voted for their favorite team by placing their donations on either the Cincinnati Bengals or Los Angeles Rams donation table. At the end of the week, the Bengals received more donations than the Rams and were announced this year's "Souper Bowl" winner. Over 200 canned goods were collected and will be donated to the Hibernian Hunger Project to help feed those in need.
Students also supported the parish Youth Group by donating MLK Bags of Service and collecting personal care items, which will be donated to a variety of local shelters and organizations in need.
Thank you to the SKS faculty, students, families and Home and School Board for making this year's Catholic Schools Week celebrations a huge success!
(Click the thumbnails to view larger)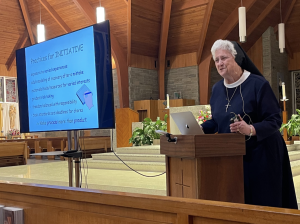 The Home and School Board welcomed Sr. Pat McCormack, IHM, EdD, Program Director of the IHM Office of Formative Support for Parents and Teachers, on February 15 to speak to our community about the critical role that parents, along with teachers, serve in contributing to the soul formation of children. Sr. McCormack's recipe for life success is founded on four elements of self esteem: security, autonomy, initiative, and industry.
Security:

a sense of trust, safety, predictability, and confidence

Autonomy:

a sense of healthful independence, inner authority, and resourcefulness

Initiative:

a sense of motivation and conquering of tasks

Industry:

a sense of follow-through and diligence
In addition, she recommends a healthy dose of genuine affection through which parents communicate appreciation, acceptance, and value without reference to competence or accomplishment.
Together, these elements allow a person to form his/her identity. A positive ratio of identity versus role confusion, in other words the "who am I?" stage experienced during adolescence, produces devotion as a basic life strength and fidelity as a basic life virtue.
Thank you to Jessie Bryan for coordinating this educational and inspiring evening!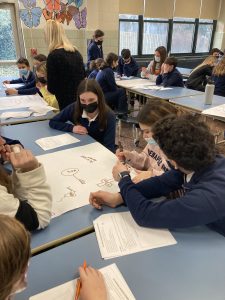 The mission of SpeakUp! is to provide youth, educators, and parents the skills, opportunity and support to speak up and be heard on the critical topics of today. Together with their parents and teachers, students in sixth through eighth grades came together to discuss school stress and mental health, both important topics chosen by our student leaders. During the event, breakout sessions were set up to create a safe space for participants to engage in open and honest conversations about their selected topic. Through these discussions, students learn that no matter what problems they are facing, they are not alone. Additionally, the sessions establish the importance of having safe adults to turn to in times of need. The event was held in-person for the first time in over two years, and was a success! We look forward to continuing these tough conversations while remembering that we are not alone in this journey!
TEACHER SPOTLIGHT:
Jennifer Loftus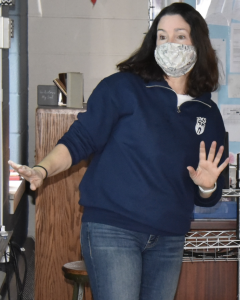 High School: Mahwah High School (New Jersey)
College: Kutztown University (B.A. English); St. Joseph's University (M.S. Secondary Education/English)
Started at SKS: 2013
What is an interesting fact about you? I am a fitness instructor. I have taught Pilates, yoga, and strength classes for over 20 years.
What is your fondest memory at SKS? Sewing pillowcase for Ryan's Case for Smiles. The entire service project endeavor is like magic – from the selling of popsicles and raffle tickets to connecting the initiative to our summer reading novel; from sewing the pillowcases to listening to Tracy Barausky share her personal story of receiving these pillowcases. Everything comes together so beautifully, and it is the highlight every year!
What is your favorite part about teaching at SKS? How much SKS feels like a family. We all care for each other so much and support each other. Plus, we have a LOT of fun.
Why did you become a teacher? I started working in advertising and communications at The Philadelphia Inquirer. I didn't plan on being a teacher, but many signs kept leading me this way. I couldn't be happier to have made the change.
What is your favorite part about teaching in general? I love when I teach something particularly challenging, and the students initially aren't sure about what to do, but then they start to get it. I love seeing how proud the students feel and how everyone supports each other. I also love how we get to laugh together every day.
What is your favorite book? That is a Sophie's Choice question! It hurts to pick one, but I'll go with A Tree Grows in Brooklyn.
What do you like to do for fun? Hang out with my family and friends, exercise, read, and bake.
What is the most important lesson you think young students should learn? It is okay to make mistakes. We often learn best from our mistakes, and learning to become resilient is such an important trait to help with happiness.
Do you have any goals for this year? If so, how do you plan to achieve them? I want to give books to my students that they will love. I constantly read young adult books so I can recommend novels. I believe that anyone who thinks they don't like to read just hasn't discovered the right books yet. Besides assigned literature, we read for pleasure every week, so I can work towards this goal. I also want to continue the building of strong, organized writing. Our ELA teachers are so good at working together towards this goal. I believe when our kids leave SKS, they are more prepared than their non-SKS peers in high school, especially with writing skills.
ALUMNI SPOTLIGHT:
Justin DiCarlo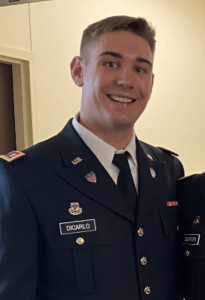 Hello SKS community!
My name is Justin DiCarlo and I am a St. Katharine's graduate of 2012. At SKS, I loved CYO sports and playing the piano. I continued playing sports and music at Radnor High School. I was on the high school football and baseball teams, but also in the band! I graduated from Radnor in 2016.
I then went to college at Washington University in St. Louis where I studied both International Affairs and Music. I was on the football team there too, playing defensive cornerback for all four years. As fun as football was in high school and college, I'll never forget playing for Coach Patch at SKS.
In college, I was in the US Army Reserved Officer's Training Corps (ROTC). When I graduated in 2020, I was commissioned as a Second Lieutenant in the Army. The Army has taken me all over the country and the world, including Germany, Rwanda, and Kenya under United States Special Operations Command. After my latest duty in Africa, I saw just how different the United States can be from other countries, and I became very interested in the development of the Rule of Law and Human Rights. So, when I came back home, I decided to join the Army Reserves part-time so that I could be a full-time student and attend law school.
I am currently in my first year at the University of Pennsylvania Law School, hoping to work in either International Human Rights or Criminal Law. I am still playing the piano and would like to pursue a Masters in Classical Music. In the Army Reserves, I am assigned to the 404th Civil Affairs Battalion at Fort Dix, New Jersey.
I have so many great SKS memories. I will never forget winning the baseball championship in 8th grade, shoutout to our coach Mr. Heacock (and to Nick Marchese who pitched an absolute gem in the championship game). Playing piano at the SKS talent shows was also always a highlight for me, including in 7th grade when I accidentally left my music at home and had to play from memory!
I am forever grateful to everyone at SKS for their support over the years. Beyond all the academics, sports, music, and dress-down days, the most important thing SKS did for me was instill a deep love of God and place faith at the center of my life. I would not be who I am without SKS, I miss you all!
Hip Hip Hooray for Yay Lunch!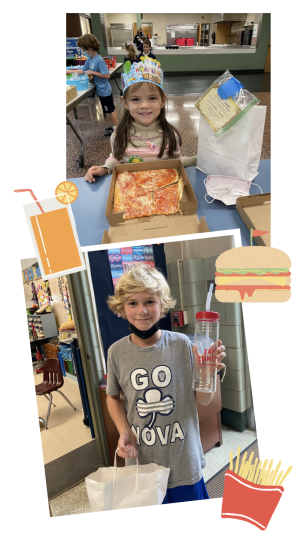 This year a new lunch program was successfully implemented here at SKS. The program, Yay Lunch, partners with local restaurants in our community to provide hot lunches every day from restaurants including Jules Thin Crust, Chick-Fil-A, Shake Shack, Einstein Bagels, and Tropical Smoothie Café. Meals can be ordered nut, shellfish, gluten, egg, and dairy free, and vegetarian options are also available. Families order meals from a weekly lunch calendar and prepay for the upcoming week(s).
Overall, the lunch program has been successful here at SKS. Lunch program coordinator Susan Hodgens explained,
"Yay lunch saves time and makes many mornings stress free by offering various lunch options for families to order for their children each week. We have a significant number of families that order each week."
Students have also been happy with the new lunch program this year. In addition to the delicious lunches, Yay Lunch sponsored a Golden Ticket contest this fall in which two lucky winners received a golden ticket with their lunch and were awarded a week of free lunches. The two lucky winners were kindergartener Lexie McCracken and third grader Will Longstreth! Lexie was very excited to win a golden ticket. She exclaimed, "I love FRIDAY smoothie day and the chocolate chip cookies!!!"
Happy Lunching!